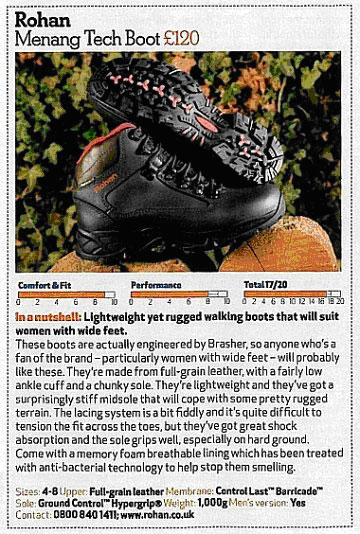 Comfort & Fit: 9/10
Performance: 8/10
Total rating from Country Walking Magazine: 17/20
In a nutshell: Lightweight yet rugged walking boots that will suit women with wide feet.
These boots are actually engineered by Brasher, so anyone who's a fan of the brand – particularly women with wide feet – will probably like these.
They're made from full-grain leather, with a fairly low ankle cuff and a chunky sole. They're lightweight and they've got a surprisingly stiff midsole that will cope with some pretty rugged terrain.
The lacing system is a bid fiddly and it's quite difficult to tension the fit across the toes, but they've got great shock absorption and the sole grips well, especially on hard ground.
Come with a memory foam breathable lining which has been treated with anti-bacterial technology to stop them smelling.
Country Walking Magazine – October 2011
Read more about our footwear range.