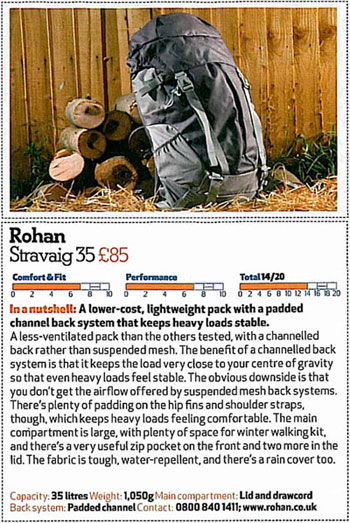 In a nutshell: A lower-cost, lightweight pack with a padded channel back system that keeps heavy loads stable.
A less-ventilated pack than the others tested, with a channelled back rather than suspended mesh. The benefit of a channelled back system is that it keeps the load very close to your centre of gravity so that even heavy loads feel stable. The obvious downside is that you don't get the airflow offered by suspended mesh back systems. There's plenty of padding on the hip fins and shoulder straps, though which keeps heavy loads feeling comfortable. The main compartment is large, with plenty of space for winter walking kit, and there's a very useful zip pocket on the front and two more in the lid. The fabric is tough, water-repellent, and there's a rain cover too.
Country Walking Magazine – December 2011
Here's what Tim Jasper, Rohan's Brand Director had to say about the review.
Nice to get reviewed here. I would agree with the reviewer about the advantages of not having a suspended back system. I know these can be great when it's hot but they add a lot if weight, complexity and bulk. They can also reduce the useable space in the bag quite significantly if they are designed well enough to allow reasonable airflow. We thought about it carefully but came down on the side of less complexity and more functionality. Anyway, in winter it's quite nice to feel the pack in tight against your back – stops the draughts!
Click here to have a look at the Men's Stravaig 35.